MJJ Real Estate Plan Drawing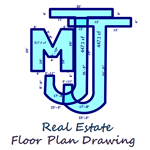 CVH360 is pleased to be working with MJJ Real Estate Plan Drawing & Measuring to offer highly detailed floorplans and room measurements as an add-on to our services. Now you can display your listing's layout and actual size alongside high-quality still images and interactive virtual tours.
When you order an MJJ Floorplan as an add-on to a CVH360 photo or virtual tour, you receive:
Laser-measured room layouts with extremely precise measurements
Printable Flyers with the Floorplan...ideal for leaving in the home or in your information box in the front yard.
MLS-compliant PDF for your listing.
Integration into virtual tour so your prospective buyers can print their own copy when they view the tour.
Two different formats of the report to choose from.
*Additional fees may apply for travel distance or square footage of your home. These fees would be invoiced directly from MJJ Real Estate Plan Drawing & Measuring. For more information about the services offered, or to discuss options, please call Mischelle Johnstone at (843) 303-2161.
Contact Us
CVH360.com LLC
111 Sully St
Goose Creek
SC 29445